In our classroom, I use a great management program called ClassDojo.
This is a web based tool that allows teachers to give students immediate feedback on their behavior. Class Dojo encourages students to work together and make smart choices. Students are given positive points for behaviors such as being on task, being kind, participating, or working hard. Points can also be taken away if students are off task, blurting, or distracting others. 
One of the best features of ClassDojo is that you will receive a detailed report about your child every Friday. You can also check your child's progress at any time through your personal account. You will be able to see how he/she is doing as well as their areas to grow.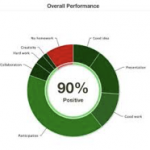 In addition, students will have their own access codes so that they can view their points and see details about their behavior. Once students earn 10 Dojo points they will receive a Dojo ticket. At the end of every month, students will be able to use their tickets to purchase items at our class store. When students reach 10 points, their points reset and they work on earning their next set of 10.
It's very easy to get started… just get the free ClassDojo app, sign up as a Parent and enter your Parent Code that I will provide for you. You can also sign up at www.classdojo.com. For more information go to www.classdojo.com/LearnMore.
Thanks for joining our classroom community and for encouraging your second grader!
Sincerely,
Mrs. Bast 🙂